I'm a newbie blogger that's moved from livejournal. I would like this blog to be a resource for other nail polish fans out there. I know when I find a good colour, I usually go online, google the polish swatches and read reviews first before I get the polish. Or I go online to google swatches to find a specific shade of polish I want. So, hopefully, someone out there will find something useful here.
My love for nail polish only started recently. Probably about four months ago. I read an article about OPI's Matte Russian Navy and that started me on this path of nail polish addiction. I
needed
that colour, so I headed out to my nearest salon to get it. Sadly, they didn't have it, but I was drawn to the other gorgeous colours they had and that was my first batch purchase. Because it was my first, OPI has a special place in my heart. The majority of my collection consists of OPI polishes, but I am trying to expand. My favourite colours are red, blue, and purple. And I've been on the hunt for the perfect green for a little while. I tend to love my dark colours, but I also love neutrals.
I still don't have OPI's Matte Russian Navy though. Can't find it in Calgary.
I'm going to start by copying and pasting a few of my old entries from livejournal to here. They'll be post-dated to when they were originally posted and tags on all pictures will be from my livejournal. To anyone who's read this, comment! Tell me you're there!
Edit 12/7/09: I found that picture that started me on the hunt for OPI Russian Navy Matte. The lighting makes the polish look much lighter than the actual polish. I liked the picture better.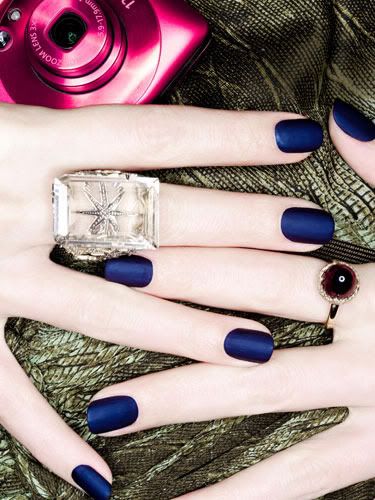 Image Source:
Marrie Claire