Oh man, I'm flipping exhausted. Children tire you out, and they weren't even mine.
Anyhow, onto the nail polish. I'm quite enamoured with my OPI Up Front & Personal. I kinda want to try it with everything just to see how it turns out. Today, now that Halloween is over, I wanted to wear something light and shimmery after all the darks. I was going to just go with Up Front alone, but after my experiment with OPI
You Don't Know Jacques
Suede without basecoat, my nails are all yellowed and nasty. So I decided to do two coats of OPI
Bubble Bath
and then add a coat of
Up Front
.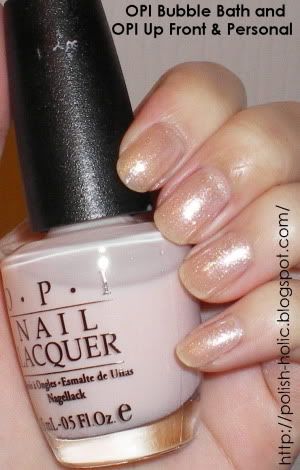 This is actually the old white
Bubble Bath
, not the newer pink
Bubble Bath
. If you didn't know about the difference, drop by
The Polish Addict
for an explanation. I got this bottle from my friend who got it online. It was supposed to be new, but I'm pretty sure it's not. The bottle is lower than usual and it stinks to high heaven which makes me think it has had a shat load of thinner added to it. But I dunno. If the old formulas stink like that, let me know.
Bubble Bath
is a very sheer pinkish off-white which made it the perfect base for
Up Front
, which is a sheer gold shimmer with pink and green shimmer. This combination is
just
opaque enough that it covers up the yellowing in my nail, but sheer enough to still see my nail. I think it just looks great. In low light my nails practically glow. In the picture, the bottom three nails are more representative of how it really looks like, my index finger is reflecting the yellow light overhead.