Oh man, hahaha. I've just done one thing after another to this poor manicure. First, I accidentally bumped my hand during application so I have a botched ring finger. Then I actually smacked my thumb against my desk so my thumb is all smudged. And then I swiped my other thumb against my sweater right after I put on the top coat and now my right thumb looks furry... Poor, poor mani.
Anyhow, X is a very dark burgundy shimmer. As far as I can tell, it's a black jelly polish with red shimmer. This is almost a dupe for Sephora by OPI I'm With Brad. It's just a wee bit lighter if I remember correctly. I like it. I think I might just prefer it to Brad. Edit: And it's a wee bit more on the plum side where Brad is a bit more red.
I find the polish a little bit thick, but nothing to really hamper application. Goes on smooth as most jellies do. And cleanup is really easy as it's a jelly. Overall, good polish. I wish some of the brands such as China Glaze would jump on the wide brush bandwagon though. It makes application so much easier.
And how that the NOTD is over with, I have a confession. So I spent 5 minutes ranting to my best friend about how wearing heavily chipped polish is like going out with smudged mascara. You should not freaking do it. It just makes you look unkept. Well... After all that fuss, I totally went out like this: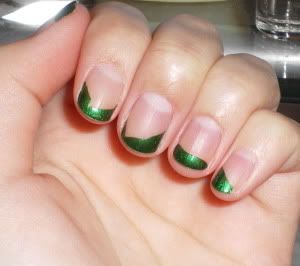 I feel so ashamed. In fact, I feel like I should apologize, to who, I have no idea, but I am so very sorry. I was in the middle of taking off my polish when I had to go out to run some errands. I totally went grocery shopping with these nails. *Embarrassed*