This red almost borders on a dark pink. Almost, but not entirely. It's not as holographic as other OPI Designer Series polishes but it's still got a silver holo particles that make this polish sparkle.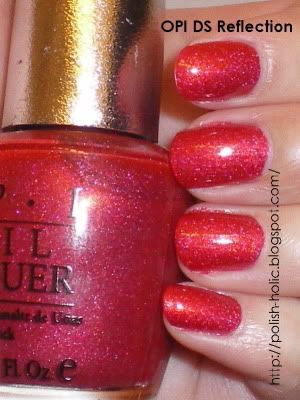 OPI DS Reflection
The picture isn't as accurate as I could get it. I was at work all day so I didn't manage a sunshine pic before work ruined my manicure. The bottom of the bottle and the top of my middle finger is where it's most realistic. This is two coats but it was pretty close to opaque at one. It applies like buttah. Seriously, I don't like using that word too often, but it's so true. Just like BUTTAH.
Overall I think it's got too much pink for my liking. I think I may just swap it. I completely overpaid for this polish so I'll think about it. Another reason I'm not feeling this polish is because I've worn red just recently and I don't deal well with wearing the same colour, although a different shade, too close together.
Tiny little anouncement:
Starting December 1, 2009, I'm doing something a little different with my blog. I'm very very excited about this so I hope you guys can drop by on the first of December to participate.