I don't think I'll be doing this too much. I'm more an NOTD type of girl. Not to mention, I don't have the equipment and I suck at it. StBF (Sarah the Best Friend) asked me to compare OPI Smitten with Mittens with China Glaze Ruby Pumps and I figured I might as well take the time to do the same with Sephora by OPI I'm with Brad and China Glaze X. I took about 25 pictures and even then I don't think I ever really managed to capture all four polishes at the same time, but here they are.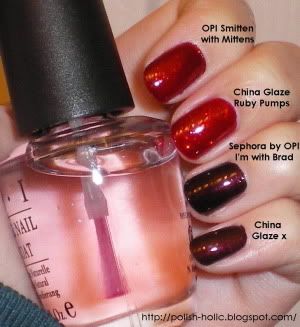 Another close up of both red glitters.

OPI Smitten with Mittens vs China Glaze Ruby Pumps:
Smitten is darker, the glitter isn't as blingful as Pumps. Pumps literally glows from within. I think the difference is how dark Smitten's base polish is, it sort of covers up the bling. Pumps also has more glitter. In my opinion, Smitten is a more toned down version of Pumps. I didn't find application any different for the two, so it's up to y'alls which to get. Price wise, freaking grab Pumps. Seriously, with Sally Beauty Supply's prices, go get it now!
Sephora by OPI I'm with Brad vs China Glaze X:
X is the lighter sibling of Brad. I find Brad had more pigmentation and went on a wee wee bit smoother, but not enough to sway you on which to get. Brad's also a bit more plum coloured where X is more red in the light. Brad is also shinier. In lower light Brad looks more of a dark red than X, which looks like a redish brown. When you judge the both based on polish quality and colour, Brad wins by a hair.
But
Brad cost $12 CAD where X cost $5 CAD (online). So... It's up to y'alls, but I don't think the polishes are different enough to warrant owning both.
Edit 11/17/09:
So I had some time during the day and took some daylight pics for you because I have nothing better to do until I head off to work. That and the other pics sort of suck.
Blurry shade: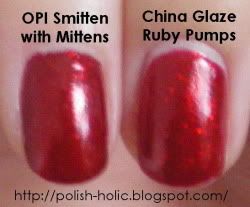 Sunlight:



Blurry (because I suck like that):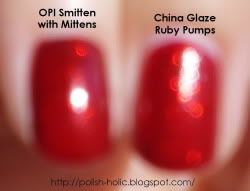 From all of these you can tell that Ruby Pumps is sparklier and Mittens is darker. There.