I have been a bad blogger. I've been putting off posting this for a while. I just couldn't get good pictures of it. So I just took a lot and then having to pick which to post and then edit them all was just a pain. But here they are. Every picture was taken in some form of natural light. Most in low lighting except for the one in sunlight.
Purple Heart is a purple/green duochrome. I could not for the life of me get the green to show up for a picture. Holy shizznit, I've never taken so many pictures of a polish before. I think I was sitting at somewhere around 45 when I was done. When you look at the polish directly, you see purple, but on the edges, it's a very dark greyed out green. It doesn't look anywhere near as impressive as it does in the bottle though. The duochrome shows up best in lower lighting. Check out the bottle. It never flashes that light green/blue like the bottle, but the deep dark green definitely appears.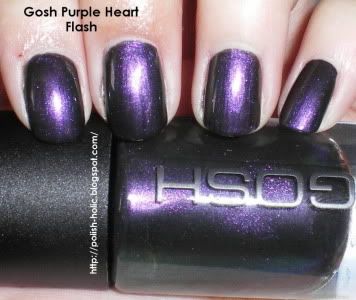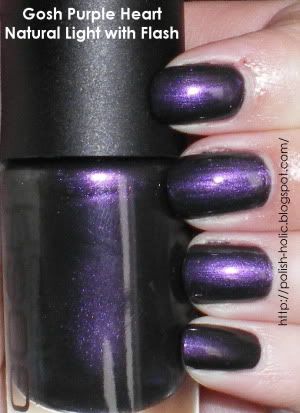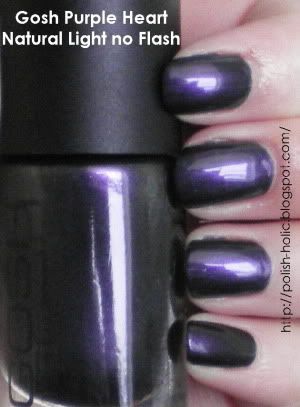 This is two coats. Purple Heart is very very pigmented. Opaque in one coat, but two here just because it lasts longer. Goes on wicked smooth.
I love the colour. If I had to choose between Gosh Mystery Night and Purple Heart, I would choose this. This is a bit more blue based where Mystery Night is more reddish.
Regular
pick-my-polish
resumes next post.