I got these done yesterday but I didn't get home until 11:00. So I left them until today. Sorry about that. But pick-my-polish officially begins! Whee!
Pants' pick
Charmed by a Snake is a light brown with gold shimmer. Very warm. It really does make me think of a snake. I'm not sure how, but it does.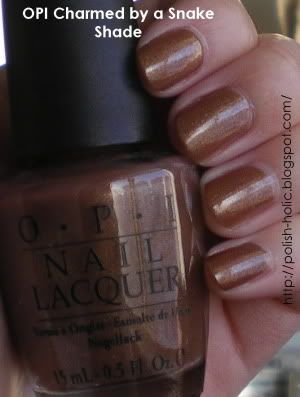 This is two coats and goes on wicked smooth. Sadly, I don't like the colour on me. I think it's just too warm for my already yellow skin tone. I had the same issue with OPI DS Illuminate.
To participate in pick-my-polish month, please go
here
.