Small Town Gal
's pick.
Oh good ol' non-3-free nail polish smell. This is not as bad as the others, thank goodness.
Alright, question, is mauve a shade of purple? I always thought so, but this doesn't look like purple. It's like... pink and purple had a baby and this is the result. But yes, this is supposed to be mauve. Very shiny, metalic-y, shimmery. I like it.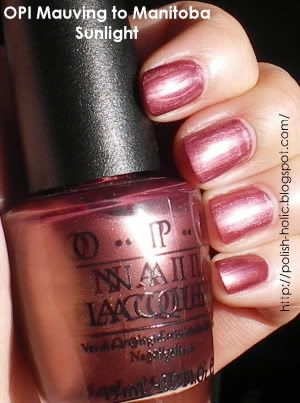 This is two coats. Two thin coats is best. On my index finger I ended up with too much polish and it gets really streaky. This is opaque in two thin coats and goes on ridiculously smooth.
Overall, I like the colour, but when I look down, for some reason it makes me think of grandma finger nails. Can't quite figure out why. Maybe it's just one of those colours that were popular back in the day?