Mels
' pick.
Sand in My Suit is a beige nude with
lots
of shimmer. When I first bought this polish I thought it'd be really boring but it's not. The shimmer gives it extra dimension and keeps it from looking like gross paint in your fingers. These pictures are done in artificial light. We definitely aren't getting any sunlight here in Calgary for a few days.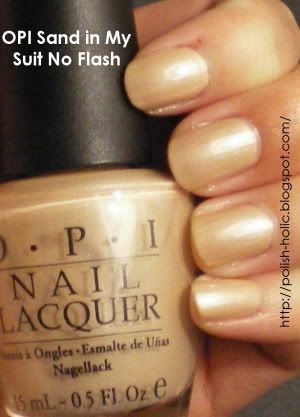 This is two coats. I made so many mistakes trying to get this damn thing swatched. I redid the mani three times. Ugh. Anyhow, you'll still see nail lines at two coats. But I think it's more than adequate. As usual, smooth easy application.
I can't wait until that knick on my finger heals.