I just want start off by saying that this is not an Ott Lite post. Meaning that these pics were taken before the Ott Lite. I have two sets of pics backlogged from a while back that still need to be posted. And then there will be Ott Lite pics. *Squeal* Oh, and I went and updated my last post with pics. Check that out
here
.
Passion Plum is a deep dark shimmery purple. This is from the Canadian exclusive Passport to Milan collection. The shimmer is actually very subtle so sometimes it looks more like a creme. It's also dark enough that it looks almost black in lower lights, but it's oh so shiny. Oddly, when I took these pics, they were perfectly colour accurate. I would also highly recommend clicking to see the higher res pics. The small ones don't show any of the shimmer.
This is two coats, no topcoat. Good application.
Now onto something not polish. I have pictures. And why take pictures if you aren't going to share? I had my Birthday brunch today and I totally took pics.
I had the eggs benedict. So good. And these are definitely some of the best potatoes I've ever had. Delicious.
StBF had the smoked salmon omelette. I can't say much about it since I didn't try it.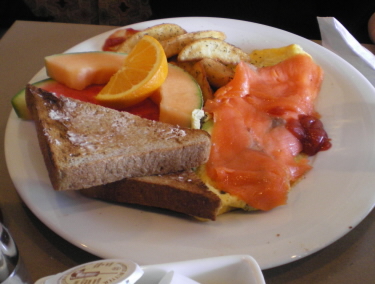 And now check out this Swarovski crystal rubber duck. I think it's so cute. Its little glasses move too.