Just a quick little post. I wasn't ever going to try this, as I suck when it comes to anything fancy with nails. But I had a bottle of black polish sitting out. So here it is.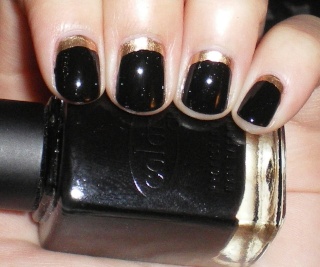 Base is two coats China Glaze 2030. Mine applied like crap, maybe I'm just not good with it. Because I could not get it done in one coat. And top is my beloved Color Club Black. One coat. Just freaking one coat and it's done. And I used shiny top coat. I didn't feel like mattefying it.
Edit: Huh, just realized my pic isn't even watermarked. Definitely a quicky. And I also forgot the question of the post.
Question of the post:
What is your favourite food?
For me, it's a toss up between Hawaiian pizza and lasagna. I love them both oh so very much. Mmm... I wonder if pineapple would taste good in a lasagna. And ham...