For the Canadian polish addicts out there:
As many of you know, some of the most popular etailers south of the border no longer ship up to Canada. So I would like to bring your attention to one of Canada's etailers. I have been buying my SpaRitual polishes from
spaboutique.ca
for a while and have been really impressed with their customer service. I remember an instance where one of the polishes that I had ordered was backordered (this one actually happens to be a Zoya). A week after it still hadn't arrived, I got an email apologizing for the delay and an explanation as to why. I have never had that type of service before. I mean for them to take the time to let me know was so awesome and then the polish arrived within a week of that email. And as far as I can tell, they have the best prices
and
selection for SpaRitual.
So I'd like to do a little giveaway sponsored by
Spa Boutique
. As they are a Canadian company,
this giveaway will only be open to Canadian residents
. Sorry international readers.
Prize #1:
Spa Boutique
will send directly to the first place winner any two SpaRitual polishes of their choice.
Prize #2:
The second place winner will receive one SpaRitual Optical Illusion from me.
I don't even have a picture of this yet because I literally just ordered this polish today. Pictures will go up when I get it in my grubby little hands.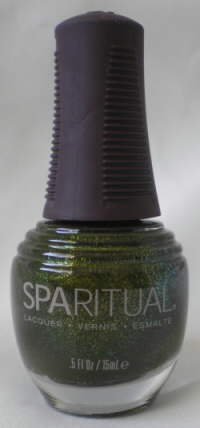 For one mandatory entry:
You must be a follower (either through google reader,
Twitter
, or
Lj syndication feed
). You must give me your email and you are only allowed to enter with one email. You must go to
spaboutique.ca
and tell me what two (2) colours you want. Non-compliance will mean automatic disqualification.
For optional extra entries:
-Follow Spa Boutique's
Facebook page
or
Twitter
@spaboutique
for one extra entry.
-Tweet the link for this giveaway @perrypiepolish and send me the link for another extra entry.
-Blog about this giveaway and send me the link for the last extra entry.
Giveaway closes May 21, 2010 at 11:59 PM.
I always end up making these long because I'm always paranoid no one will enter.