So I only have one good nail left. That would be left middle finger. So I did the comparison swatch on that one finger. The left is Camouflage, the right Rainforest.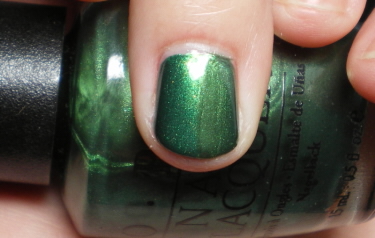 Definitely click to see the higher res version. BTW, taken under Ott Lite.
Close but no dice. From far away, you actually can't tell. But looking closely, you see Camouflage is more vivid and more blue. Where Rainforest is more yellow and... blackened. That might be the only way of describing it. Anyhow, sorry for the streakies, it's awkward just painting half the nail. This is three coats and a coat of poshe.
So is this close enough for you ladies lemming Rainforest? Or do you need the real thing?