My very naked nails.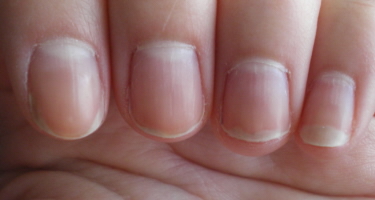 Those white spots on my nails on the side of my index, the uneven nail line of my middle and ring and the big white tip on my pinky is where my nail is no longer connected to my nail bed. My nails are cut as short as they'll go, so you can see how bad it is on my pinky.
This was part of the reason why I took my first break. But it's just gotten much worse in a very short period of time. So I'm going back on hiatus. I have about five more polishes to post. But after that, it'll be pretty quiet here. I may do stash pics though, so let me know if you're interested.
I'm also going to cross post this everywhere. Anyone who knows what might be wrong with my nails, or can suggest a treatment, please let me know.
Edit: For anyone that finds this from a web search or is wondering kinda what happened. I had an aesthetician tell me pretty much to stop wearing nail polish, cut my nails really short. As short as I can. And continue to cut it short until the nail bed moves back to where it should be. By cutting the nail really short, it can't hook on things and get pulled from the nail bed so it has time to heal. I hope this helps. If the problem doesn't start to improve in a couple weeks, please go see a doctor. It could be a fungus infection or something worse. I had improvement within 1-2 weeks.