So I clicked on my blogger dashboard and it said I wasn't currently following anyone and I think I had a mini heart attack. But it was just a glitch.
Phew
.
So for the Canadian ladies out there,
Rexall is having a 50% off sale on all their nail polish
.
All
their nail polish.
Run
, do not walk, to your nearest Rexall. I hauled something fierce today. $4 Sally Hansen salons people. Although I have no idea if this is across Canada. So make sure you check the flyer at the link.
So here be my haul.
NYX. I've never seen any of these in stores in Calgary before. So I was super excited to grab these. Although they were $5.99 before discount. Pretty pricey, if you ask me.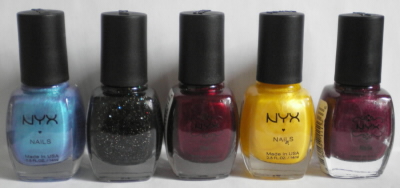 L-R: South Sea, Asphalt, Express, Roasted, Silver Plum
Nicole by OPI and Sally Hansen Salons. The Nicoles were reg $10 and the Sally Hansens were reg $7.99. Totally worth it for the SH polishes. And I got an extra bottle of Commander in Chic to swap with people that don't have access. Let me know if you want it. My contact info's in my FAQ.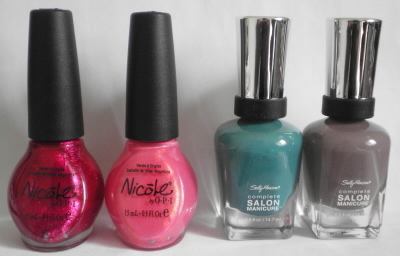 L-R: Rent a Magenta, You're an Angel, Fairy Teal, Commander in Chic
Del Sol: These polishes change colour in the sun. Soooo awesome. I was most excited to get these. As far as I know, Rexall was the only place that has these. The top row is what it looks like in the shade, the bottom is what it looks like in sunlight. The colour should change more than what the pics show. We didn't have much good sun today.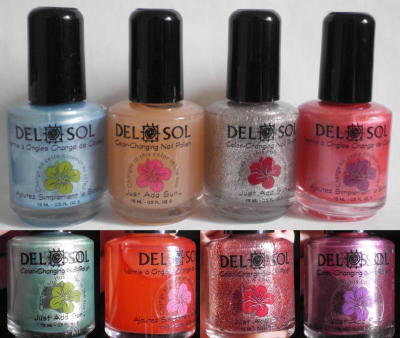 L-R: Electrick, Peek-A-Boo, Ruby Slipper, Calypso
Randoms. Dude, they didn't fit anywhere, but are still awesome. Here they are. I have no idea how much these were.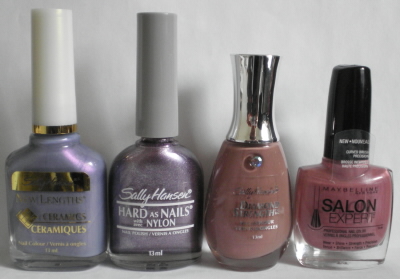 L-R: Water Mist, Applause, Signature Taupe, Rose Attraction