Possible dupes?
What say you?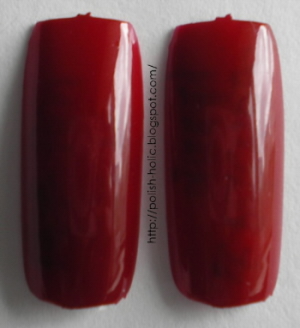 Can you even tell these are different colours? Malaga Wine on the left, St. Petersburgundy on the right. MW has
slightly
more blue than St. Petersburgundy. But that's only in some lights and even then I'm not entirely sure if it's really there or a trick of my eyes.
When I bought St. Petersburgundy (there has gotta be a way to shorten that name) I found a bottle of Malaga Wine to compare it to in store. It looked like St.P (there, that's better) was darker than MW so I bought it. So either OPI's changed MW's formula since I bought my bottle (I wouldn't be surprised if they had) or I was smokin' something at the salon. Although it could be the perm solution...
Anyhow, I've decided to give St.P up. I see no point in having both. And any room I can make in my collection is a good thing.
So lovely readers. What's your verdict?
Edit: Oh, the weird black scribblies you see on the back of the acrylic nails would be black sharpie. I had to label the backs or I would have never known which was which.