I believe this is
origami
's third pick.
Factory Grey is a grey creme. Lol, yeah, that's about all there is to it. Well, there is a slight pink thing going on with it. That might just be my skin reflecting off it though. I originally didn't like it much but it grew on me. Sorry for my index and ring fingers. On my index finger there was barely any top coat on the brush so it ended up scraping it. And on my ring finger, I was moving my chair up and accidentally wiped some of it off on the chair.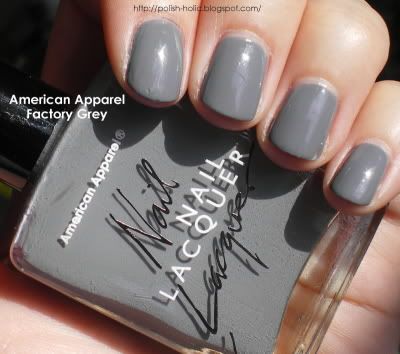 Two coats with top coat. My Poshe is so dead and dying. Anyway, this is very close to a one coater. I am just continually impressed by American Apparel's formula.
Pic of the Moment: Here's a pic that StBFF took of all the manicures I did last Saturday. One of the ladies whose nails I did left early. And bottom right corner with the french mani and konading is StBFF's hands.