Heads up for the Canadian ladies out there, if you've got a Rexall near you, all lipsticks and lip glosses are 50% off Jun 12 - 18, 2010. Check out the flyer
here
.
Alrighty, here's
ch3rryco1a
's pick. The 11th pick for
Round 2 of Pick My Polish
. This is a re-swatch. My first swatch turned out wicked bad. This time I'm wearing it for a full mani. But to check out the original review, go
here
.
But here's a tiny recap of the colour. Deep purple polish with silver (which shows up more purple/pink) and blue glitter. It's not very blingy and much darker than the bottle. And here are two pics. One taken with an ott lite and one taken in direct sunlight. This is for those who asked to see what sort of difference there might be.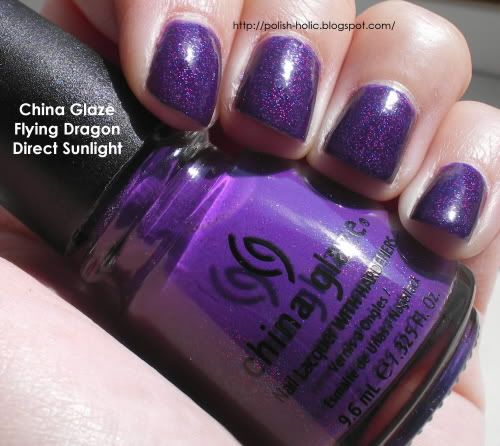 You can see with an Ott Lite, it really concentrates the light in one area, so it's darker in the periphery whereas in direct sunlight there's much more light everywhere. But as far as colouring goes, they're both pretty accurate.
This is three coats again. And with topcoat this time. But I did a nice even semi-thick first coat and two thinner coats to even things out and such. Doesn't look watery anymore.
Now here's a random pic of me. I kept meaning to get stash pics, but never got around to it. So here's a semi stash pic. I pulled all my polishes out to pick which ones I would take to do manicures for women's retreat and so I'm sitting here surrounded by all my polish. I'm making a franken, I think. I'm totally wearing sweats and plaid. I feel like a slob.