So I graduated yesterday. Absolutely exhausting day. But I'm glad it's done now. I was sorta miserable the whole day because it was pouring rain (my hair, which was nice an curly in the morning, was flat by 5 PM). My shoes hurt like a bitch and I was stressed. But now that I look back on it, I'm just immensely proud and happy. My parents might have been bickering and making me anxious but it was nice to spend the day with them. And of course StBFF was there the entire day. She's a trooper. I completely wasted her entire day and she didn't complain once. But yeah, despite whatever negative there was, I get an overall positive feeling when I think back on yesterday. I'm done! A new chapter in my life. I'm a bit terrified right now. But you know, it's a fresh start. It'll be awesome.
Now onto the polish. I wasn't planning on wearing this polish for convocation, but then I got lazy and didn't bother to change it. It's a gorgeous colour though, so it's not a huge deal. Icy Iris is a deep purple polish with silver glitter. It just glows. Absolutely stunning purple. It's nice and dark, but always looks purple. This was taken under an ott lite.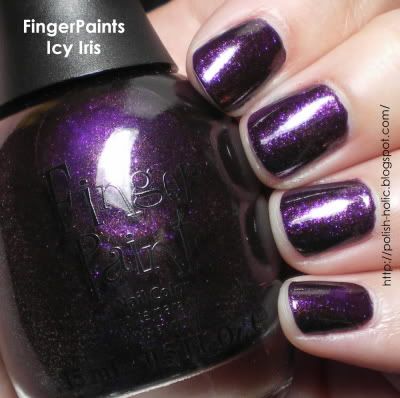 Two coats with topcoat. Great application, very well pigmented. Really have nothing but good things to say about this polish. Too bad it was limited edition. If you get a chance to pick this up, I highly recommend it.
And now here are some pics from grad.
Let us start with grad bears. Last year when StBFF graduated, I bought her the bear on the right. This year, she bought me the bear on the left for grad. Pretty sweet. We got matching grad bears.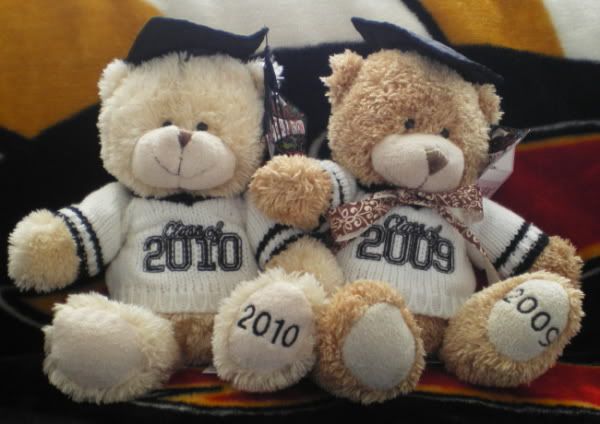 This next one is me standing near the stage. You see those straps on my shoes? Those are pony tail holders. Yeeeeeeaaaaah. The shoes are too big. They fit fine when I'm in bare feet, but when I'm wearing pantyhose, they just slide right off. And it was so retarded cold outside that I
needed
pantyhose.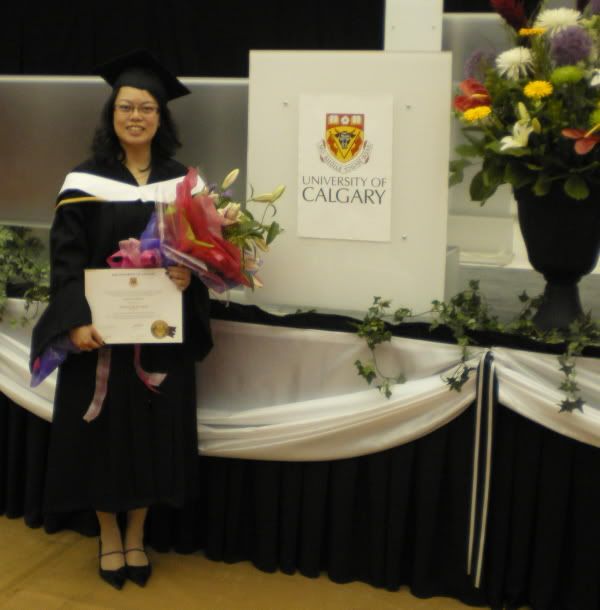 And this next one is me looking fabulous in the rain. For some reason, my head flip makes StBFF laugh like an idiot. I was trying to flip hair out of my face, but she took the picture at that exact moment. Anyhow, you can't see the rain, but I am definitely getting rained on.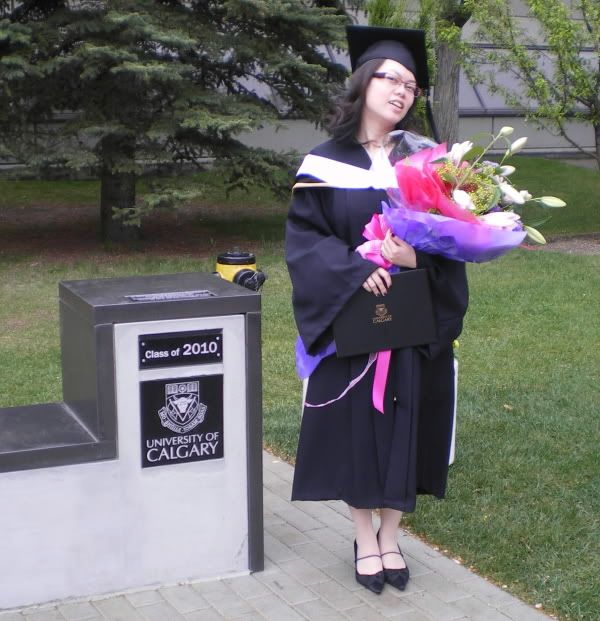 Well, there's grad for me. Thanks to those who read this far. *Kisses* Oh, and how many people use the term convocation for graduation ceremony? I know lots of people aren't familiar with the term, but my school definitely likes to use it.