Mel
's pick. So I must admit, the fact that I own this is a bit embarrassing. But in my defence, it was on sale, how could I pass up a good sale? And the bottle
is
unique.
Sangria is a deep dark vampy brownish red creme. Very blood like with a touch of purple. In the picture it looks almost black. But it's not. Even in lower light you can tell it's not black. It's also got a jelly-like quality, which probably helps it look not-black. You know, for something branded Twilight, none of these names have anything to do with Twilight.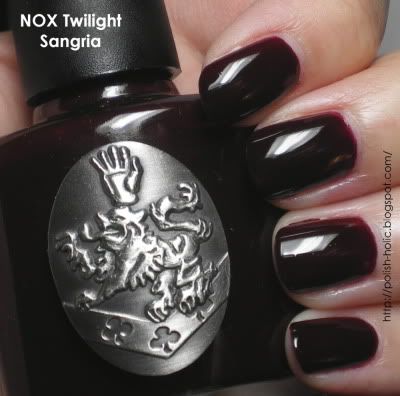 Two coats with topcoat. Perfect application. I have to give Twilight Beauty credit, the formula was top notch. Full coverage in two coats. Brush is nice and I like the fact that these are 17 mls instead of the usual 15. Now here's a pic of the bottle, because, let's face it, the bottle is different and that's why I own this polish.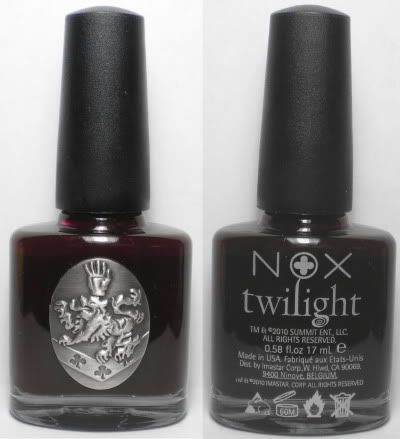 I found these at the Beddington London Drugs here in Calgary. Bought it buy two, get one free. I think they're regular price $9.99. You can also get these online at twilightbeauty.com.
Pic of the moment:
There's no story behind this pic. It's just a ridiculously cute fox. I had to share.