Just a little bit of blog related business before I get into the polish. A couple nights ago, I decided to go on a no-buy. This really isn't all that big of a deal but this time I've decided to stop reading nail blogs along with it. So I probably won't know what's going on in the world of nail blogging. I'm going on a no-buy because I don't have a job and I have over 350 polishes that I've never worn. Oh yes, you read that right. My buying has
completely
gotten out of control. So the only way I'm going to be successful is if I stop reading blogs. Instead of trying to
resist
temptation, I'm just going to get rid of it. I absolutely love all you bloggers out there, but you give me lemmings that I just can't afford. I'm probably going to get the polishes I lemmed before the no-buy, but this is me trying to prevent new lemmings. I'm also going to extend this no-buy to all consumption in my life. Clothes, shoes, books, and general junk. I have piles of clothes that have never been worn. Same with shoes. My book case is full of books I was going to read but never got to. I mean, I have a library card, I don't need to buy all of these books. And I have toys and trinkets all over my desk. This is stuff I just don't need.
As I originally intended this blog to be an archive of swatches of all the polishes I own, I'm going to continue writing. So no worries about that. But this would be a good time for those of you who haven't taken part in
Pick My Polish
to check it out now. As I'm focusing on wearing all the colours I own, I'd like to have a nice list of polishes to work through. I'm always paranoid that one day I'll run out of polish picks and will have to decide, on my own, what to wear.
Now that that's all out of the way, onto Pool Party. This polish killed my camera. Or at the very least, made it cry. Just looks so weird. More pink and less red. Anyhoodle, Pool Party is a neon pink creme. There is no hi-res version of this polish. I accidentally didn't save one. Ugh, I've been doing this more and more often.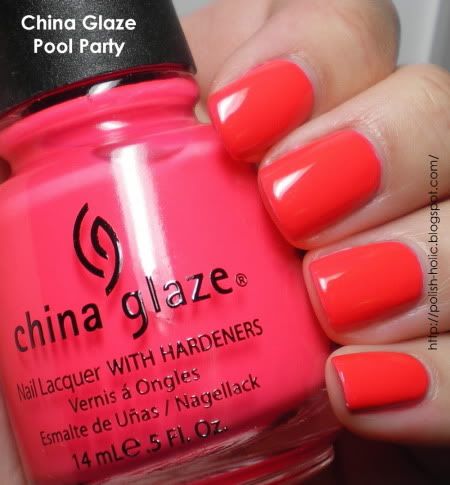 Three coats with top coat on top of two coats of American Apparel California Trooper. As mentioned in many blogs, putting a good base on before applying neons makes it really pop. Anyhow, I was done at two coats but I made a mistake on my right index so I needed a third. And now my polish is super thick. Ick. As all neons, they dry matte so it requires top coat.
Pic of the moment:
How about some sushi picspam, mmm? This was dinner a couple weeks ago. A bunch of friends and I went out to this tiny little sushi place called Amici Sushi. Yeah, totally sounds Italian. Pronounced that way too. Lol. But it's got really good sushi. $1 sashimi. Super quiet though, it's literally at the corner of two main roads so everyone just drives by.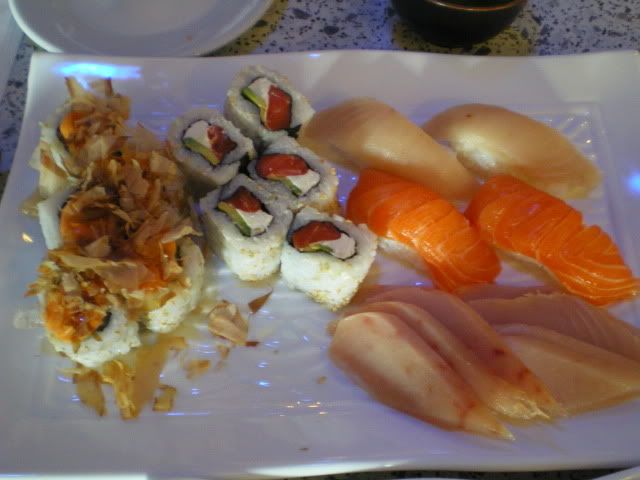 Check it out, they made the salmon into flowers.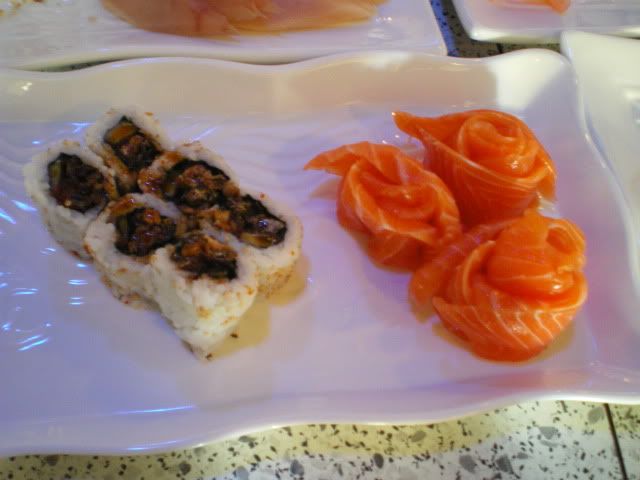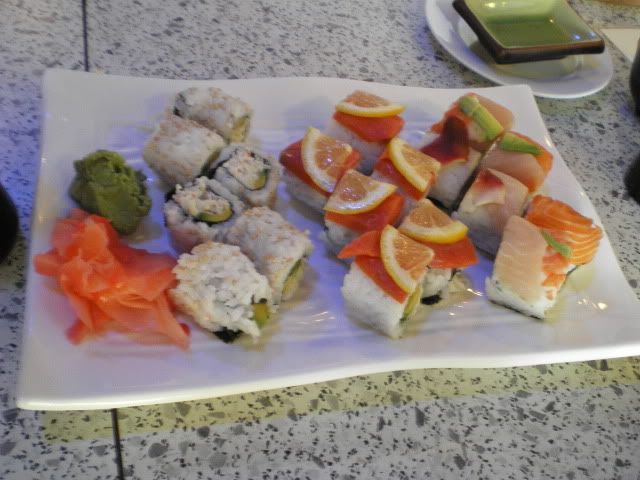 I didn't manage to take a pic of this last one until we had partially devoured it.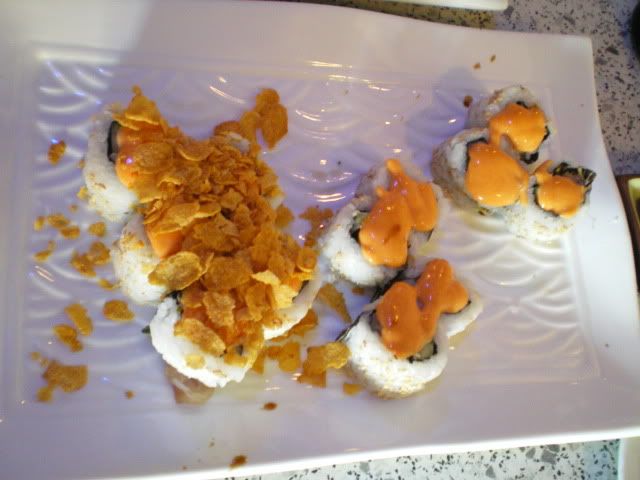 Anyhow, if any of you happen to be in Calgary, I highly recommend this place.
1908 37 St SW, Calgary, AB.