So, hey, guess what? I'll give you a hint, check my banner. Lol. Today is the 1st anniversary of the day I started on this epic nail polish adventure. And it has
definitely
been an adventure. I originally started off on Live journal and then made my way over here. I was giddy when I received my first 5 followers. Ecstatic when I realized I had 29. I am absolutely
astounded
that I have more than 400 now. I just wanted to thank you all for coming along with me. I've made some amazing friends and your comments and kind words have meant the world to me.
So you probably want to hear what the prize is, right? I was originally going to use this as a 500 follower giveaway prize. But my 1st anniversary is a more than appropriate occasion for a giveaway. Here are 17 polishes that I've been collecting since my first giveaway.
(These photos are totally not colour accurate.)
OPI Mad as a Hatter
Sally Hansen Shooting Star
Sally Hansen Guilty Pleasure
American Apparel Peacock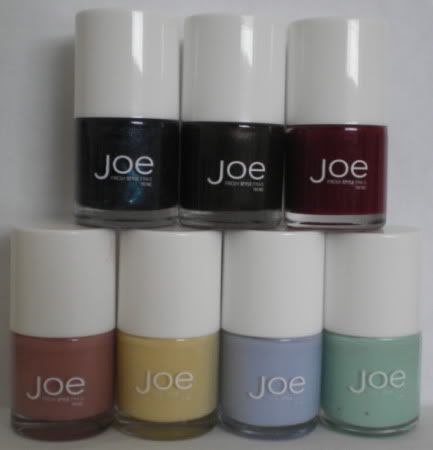 Joe Fresh Peacock
Joe Fresh Espresso
Joe Fresh Wine
Joe Fresh Nude
Joe Fresh Butter
Joe Fresh Powdered Blue
Joe Fresh Mint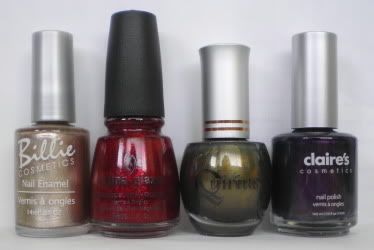 Billie Gold
China Glaze Ruby Pumps
Quirius Cresskill Eve
Claire's Magic
These two polishes are from StBFF.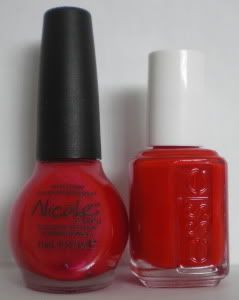 Nicole by OPI Volunteer Cheer
Essie Lacquered Up
And with a special appearance by Quatchi. One of the Vancouver 2010 Olympic mascots. You guys voted for him, so here he is.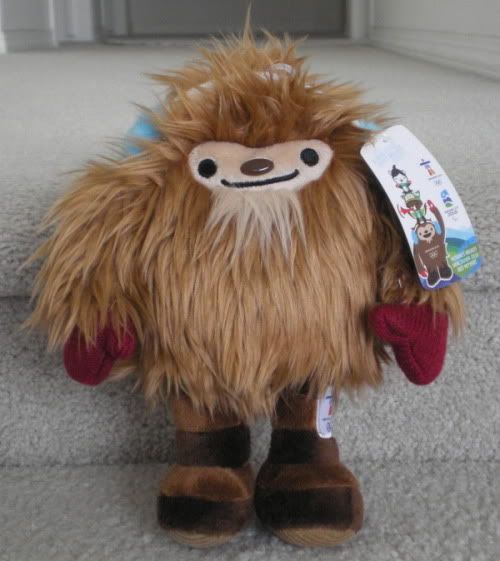 So how do you enter? Just fill in this form and you're in. I've kept it to only one entry per person for simplicity. But if you'd like to pimp my giveaway, feel free to do so.
**Giveaway ended**
Rules:
Only one entry per person. Multiple entries will be disqualified. Winner will be chosen randomly. International entries welcome. Winner will have 72 hours to get back to me, if at that time I have received no reply, I will choose another winner.
Giveaway closes October 22, 2010 at 11:59 PM.