Another of
Zara
's picks.
Curse Nicole bottles for being such a pain in the ass to hold! There just doesn't seem to be a good pose for them. Anyhow, In Your Hands is a deep blue jelly. Very nice colour. It reminds me of the sea. The vast beyond. I might also be thinking this because I'm reading
Percy Jackson & the Olympians: The Lightning Thief
.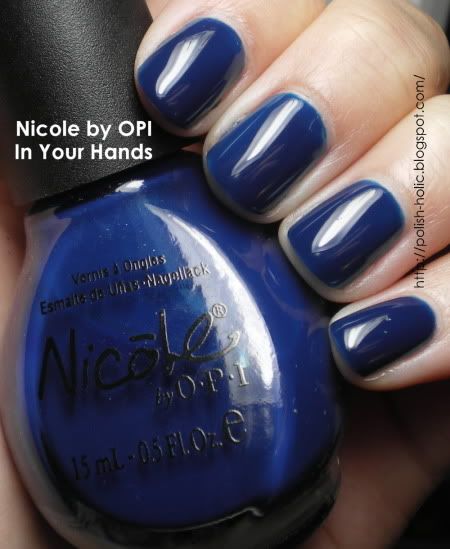 Three coats with top coat. This would have been good in two coats had I been more careful. But I think the extra coat adds some nice depth. My bottle was also a bit gluggy (due to age, I think) so it didn't flow very well. I ended up with bubbles, but I'm pretty sure it was my top coat. I've also got a random hair from my cleanup brush stuck to it. What's even funnier about this mani is that it's so shiny I can see my right hand holding my camera reflected in it.
Pic of the moment:
So two weeks ago, my coworker pulled out these manequin legs with Second World War Canadian Woman's Army Corps shoes on them. He placed them near my work space so that every single time I turned a little bit to the right, this is what I saw out of the corner of my eye.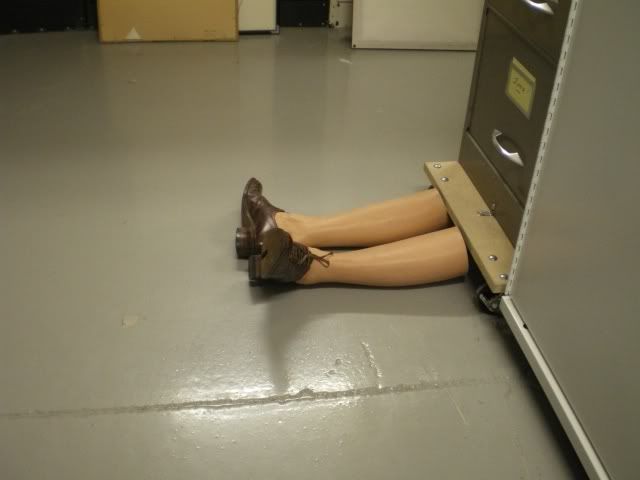 Then when the shoes got taken off, I grabbed the legs and placed them by the tank. Doesn't it look like the tank is crushing a terminator, or something? I was so giddy about this whole thing. It was
joy
.