Recently, (Read: Like three weeks ago) I had the opportunity to have a polish change from a local Calgary spa called
Frilly Lilly
. First off, some info about Frilly Lilly. Debra Van Dyke, the lady behind Frilly Lilly, opened the first flagship store in 2005 in Calgary. They currently have two Calgary locations, and one in Victoria, BC and another in Vancounver. Frilly Lilly is a boutique and spa. They're known for their waxing and line of pretty and yummy smelling products. They also sell things like jewelry, undies and accessories.
I heard about this brand from a friend who let me try her Frilly Lilly Peppermint lip balm. I thought it was awesome, so I looked them up and saw that they had nail polish. I was also really surprised to find out that it was a Calgary based company. And even more surprised to find out that one of my old high school friends was Debra Van Dyke's son and helped his mom run the business. I honestly never expected to run into someone I knew on this crazy nail polish adventure of mine. So cool.
Now onto my visit. Right when you walk in the door, you're greeted with this. Super cute. Definitely frilly. Totally has the boutique feel to it.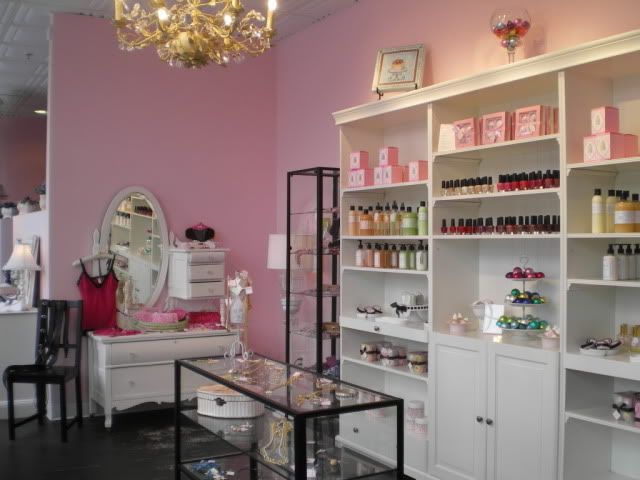 This was the McKenzie Towne location. I wish I had gone to Mission instead, which is the flagship store, just because it was closer. But I was a complete dope and made my appointment at the wrong store. *Facepalm*
Anyhow, the tech who did my nails was Brandy, I told her if she did a bad job, I wouldn't mention her by name. Lol. The polish I chose was Prosperous. (Btw, with that name, I'm so wearing this for Chinese New Year, and the colour is perfect.) They really only had a very conservative collection of polish. Mostly reds, pinks, some purples and browns. But I've been told they have more colours coming out for Christmas. Brandy also told me that they did CND Shellac there. Prosperous is a blue based red polish with gold shimmer. Please excuse my middle finger. That was entirely my fault. The moment I hopped off the chair, I ruined my nails by grabbing my purse. I just can't have nice things, I tell ya.
Two coats with topcoat. The polish applied well. Very smooth. Good opacity. I think Brandy did an overall good job. No polish on the sides. Very professional. Super nice. When you just look at it, it looks great, but under the harsh lighting of an ott lamp and the merciless focus of macro mode, it looks like poo. The one thing I wish professionals would adopt is using a brush for cleanup, and keep polish away from cuticles. She also used quick dry drops. It's been a long time since I used those. So not used to it. I felt greasy all over for a while. But it dried fast. If I had been a little more patient and just sat there for a couple more minutes, I wouldn't have screwed up my nail.
February 3, 2011:
I've done an updated review
here
if you're interested in reading it.
***Polish change and polish were compliments of Frilly Lilly.***
So while I was at Frilly Lilly, I also grabbed a pot of that lip balm I liked so much.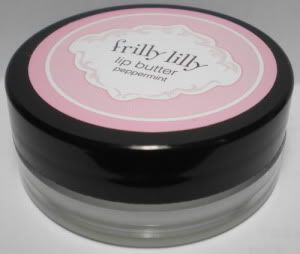 And a bottle of Frilly Lilly Cuticle Remover.

Pic of the Moment:
If I were a cat, I'd be the one on the bottom left corner. Hahahaha. Actually, now that I think about it, I could probably be both. I can do the I'm-not-amused face like a pro!