A few months ago a friend of mine was looking for OPI Stars in My Eyes. It was part of OPI's 2007 Holiday in Hollywood collection. Which means it was long discontinued. So I went looking for dupes and found OPI Happy Anniversary. I put this swatch together for her.
It goes Happy Anniversary on my index and ring fingers, Stars in My Eyes on my middle and pinky. Both polishes are semi-sheer sparkly silvers. But SIME is a slightly more bluey silver and HA lets a bit more of your own nail colour show through.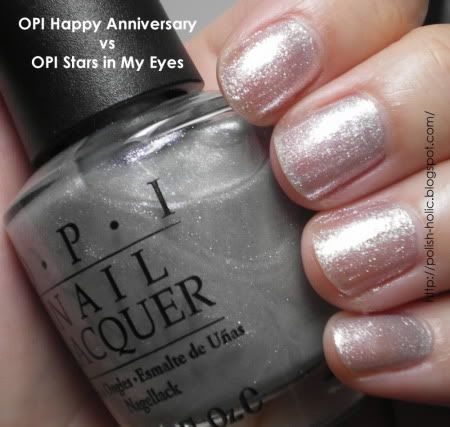 Both colours are two coats. Opacity appears to be the same.
I would say if you don't
have
to have SIME, then HA is a good enough alternative. But HA might have just recently been discontinued. I got my bottle for something like $5 in the clearance bin.
Pic of the Moment:
My dad gave me a new bamboo plant to replace the
one
two plants that I killed. Yeah, I may wear a lot of green polish, but my thumbs are definitely not green. The first time was probably because the pot was too small. The second time was during exam week. I was at school like twelve hours a day and well, kinda forgot to water it because I was only ever at home to sleep. So... May this one live a long and healthy life.
Do you like how it sits it my grad mug? It just seems fitting. I declined using a vase because this was perfect.