Recently I stumbled upon Lise Watier's Winter 2010 collection, Jingle Belle at London Drugs. And I'm sure y'all can guess what drew my eye.
Nail polish.
Gorgeous, stunning, beautiful, breathtaking nail polish.
Oh so perdy.
Bottle pic! These promo pics are actually surprisingly accurate. They did a good job. On the left Violet Dore. Reminds me very much of Sally Hansen Purple Gala. On the right is Rouge Braise. When I tried both on a piece of tape in store, they were duochromes. Let's see if they actually are.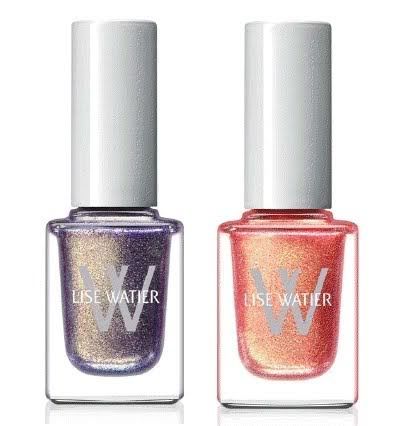 Image credit: Cinnamon Kitten
These bottles are 12 ml each for $12.00 CAD. As it is a Canadian brand, I'm unsure how accessible it is outside of Canada. So if you're interested, it's best to check the
Lise Watier website
for availability near you.
Now onto the polish. Violet Dore is a blue-based purple packed with gold micro-glitter. It reminds me a lot of Sally Hansen Purple Gala. This is a total glitter bomb. Just wow. When looking at it head on, it's gold, but the edges are purple. The gold shows up so freaking well. And the glitter sparkles green and pink in artificial light. I like.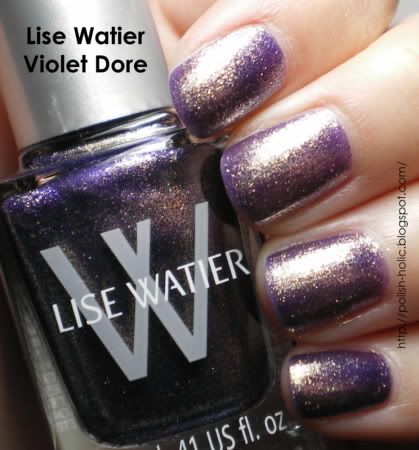 Two coats with topcoat. Applies very well. Goes on smooth and where you want it. It's also got a nice flat brush.
As I was saying earlier, this really reminds me of Purple Gala, but Purple Gala is more purple where Violet Dore is more indigo. Purple Gala also has different glitter, it's denser with both gold and silver where Violet Dore just has gold making it more duochromey.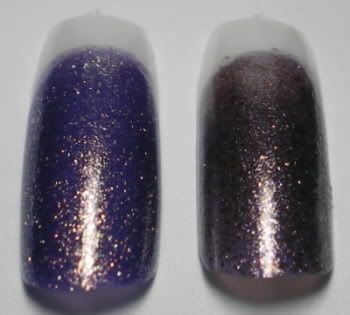 Lise Watier Violet Dore (left) and Sally Hansen Purple Gala (right). Click the image for a close up of the glitter.
Now here's Rouge Braise. Pink with gold micro-glitter. Holy crud, this does not look good on me. This totally turned out orange in pictures, but it's more a corally pink (for a more accurate pic, check out the promo bottle pics up top). It's all the gold, makes it too warm. Girls with the warm skin tone would totally be able to rock this. Depending how you move your hand, you'll see either pink or gold.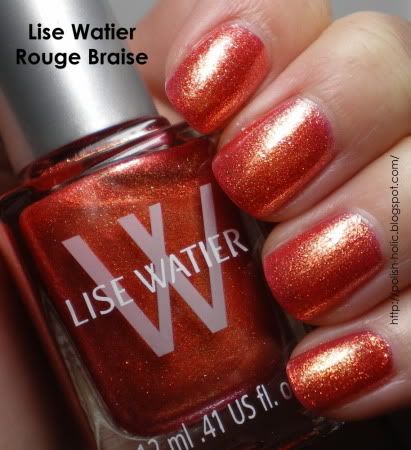 Two coats with topcoat. Oddly, this has no flat brush. Weird. Application same as Violet Dore.
Pic of the Moment:
More origami. Basically, it's just another flower ball. Pretty boring for today.