The reaction has been quite positive to Mandy's posts so I've asked her to guest blog for the next three weeks featuring the last three Avon Mattes. Hope you guys enjoy that. I'm looking forward to what she sends me.
Heather
's pick.
Jade is a black polish packed with green shimmer. This looks black unless you look closely or in bright light. This was perfect for my dark-polish mood. I think this might have been a Canadian Exclusive a couple years ago. But I can't seem to find any information on it anymore. In my spreadsheet I have it listed as part of the Passport to Morocco collection but I'm not 100% sure.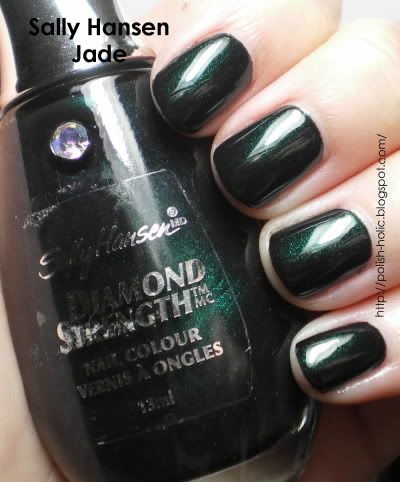 Two coats with topcoat. Application was fine. No issues.
Pic of the Moment:
My mom went to a wedding last Saturday and she came home with these. Aren't they the cutest little key chains you've ever seen? AWESOME idea. I've gone home with some sucky things from weddings, this just proves that you can indeed get awesome stuff.