What's your Point-Settia is a deep berry red with gold glitter. Click the image to get a good look at the glitter. Totally jelly-ish. I luffs it. It's festive without being overly in your face bright. Lasted four days before it chipped.
Two coats with topcoat. No application issues, just wish the brush wasn't so thin.
Pic of the Moment:
My baby.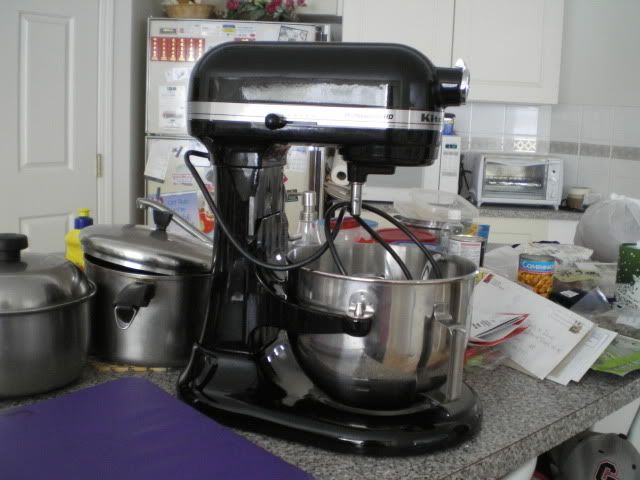 This is my new mixer. I got it last week. I have named it Mixey. I feed it and love it and hug it and pet it and talk to it and if I could take it out for walks, I would do that too. It's the KitchenAid Professional HD mixer. I love it even more because HD are my initials. I'm not sure why a mixer is High-Def, unless it stands for something else, but it just makes it that much awesomer. Forgive the mess in the background. I got distracted by the mixer.
Anyhow, I've wanted this mixer since high school. It's the mixer of my dreams. I had used it back in high school for a cooking/baking/foods class and fell in love with it. But I could never justify the price. I finally caved though. And I've been baking like mad. Totally wish all of you guys lived close because I would feed you all the fatty and unhealthy stuff I've been making.