The suede version of Suzi Skis in the Pyrenees is a grey matte polish loaded with silver micro-glitter. Totally chose this because I was in a rush and needed something that dried quick. I love how fast these things dry. I wore this with topcoat just to increase wear time and I like how glittery it looks with the topcoat. I forgot to add suede to the polish name on the pics. Whoops.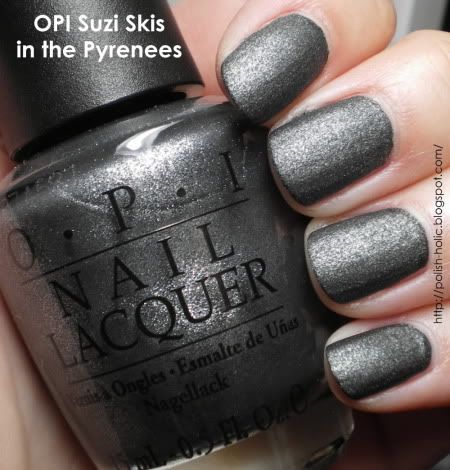 Two coats. As with all matte polishes, make sure you work quick as it'll get chunky and draggy if you spend too much time applying it. Also, ignore what the little tag says, totally use base coat. These will stain without.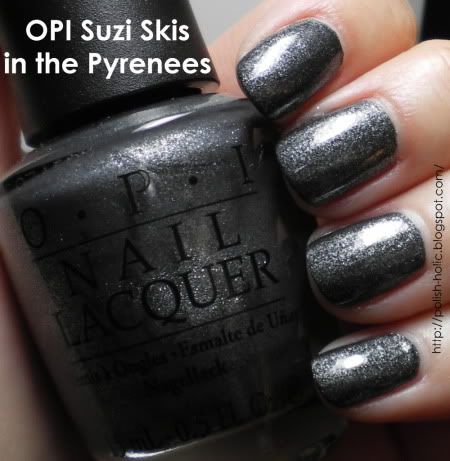 Two coats with topcoat.
Pic of the Moment:
This is the 1988 Calgary Olympic relay torch. This baby is super special. Rare as all get out. I was originally in this picture, but I think I look awful, so I edited me out. Lol. Anywho, this is one of the sweet perks of working at Canada's Sports Hall of Fame. You get to play with torches.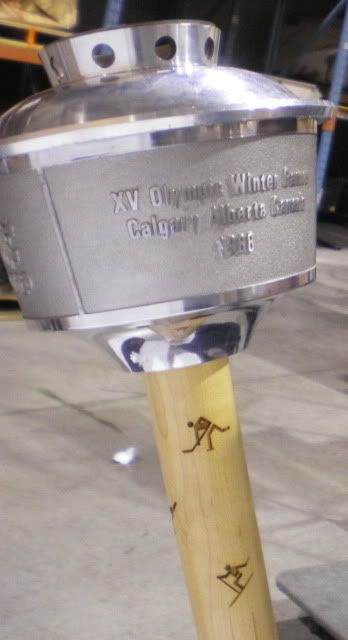 And while we're on the subject of my job. I just got a contract extension until the end of July. Yay! But this means I'll have to think about exhibit installation and moving the collection, something I've been avoiding until now because it terrifies me. This has absolutely nothing to do with anything, but I just need to babble, so let me give you some background. Canada's Sports Hall of Fame used to be in Toronto. 15 years ago they closed down with the intent of moving to a new building, but that never happened. Last year, Calgary won the bid to have them move here. So they did. Last summer, they began construction on the new building. And the entire museum's collection was shipped to a warehouse in Calgary, not where the building was being put up. I was hired in October. July 1st will be the grand opening day.
I was hired as a curatorial assistant. My duties so far have been photography, exhibition development, and office management. Now that I've been extended, those duties will end. If things go according to plan, I will have finished photography and exhibition development in a little more than a month and will move onto planning how the collection will be moved into the new building. We are working on a
very
tight schedule. Which is what scares me. I have no idea how we are going to do everything that we need to do by July 1st. I am absolutely
freaking out
right now. A part of me never expected to be around when they put everything up. Another part of me hoped to be. Oh good freaking golly I'm scared.