Heather
's pick. I chose to do this way ahead of schedule because I wanted to try this
Newspaper Mani
. And You're a Doll happens to be the perfect polish for it. I think, anyway. Thanks so much to my friend Laura for linking me to this.
You're a Doll is a greyish pink polish with red shimmer. I really love it. Totally work appropriate, muted, but interesting. No pinky in this pic because I smudged it and couldn't apply topcoat to it to even it out yet.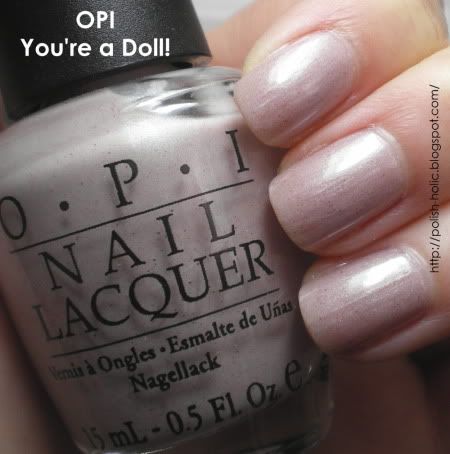 Two coats without topcoat. Good application. Could have gone with an extra coat as you see minor VNL. But I didn't mind that and I didn't want to have to sit there and wait for a third coat to dry before I started applying the newsprint.
Nail Art of the Moment:
Nail art is definitely not my forte. It just never turns out how I want. That might be because I don't do it enough to get practice, though.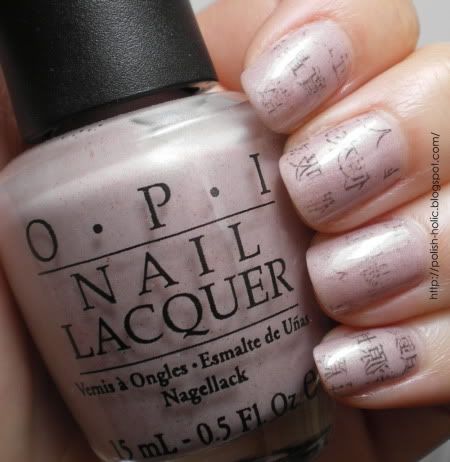 Newspaper mani with topcoat. I really wish I had gotten more transfer, but I have really curvy nails so I couldn't apply pressure evenly all over. Out of all 10 nails, my left pinky was the one that turned out the best. What I also did different from
the tutorial
was to also dip the piece of newspaper in the alcohol so that I could get it to wrap better around my entire nail. And I used a Chinese newspaper because that's all I had at home. My parents don't read English and I get all my news on the internet.
Anyhow, this mani requires patience. 30 seconds isn't long, but can feel like an eternity. 5th finger in, I was ready to give up. But I stuck it out. I hope you guys try it out too. Very fun looking when done right.