Natalie
's pick. It's been ever so long since I've worn a polish from my
chosen-for-me-to-wear list
. I've been in this super dark and vampy mood lately. And nothing on my list seemed to fit. My nails have also been in bad shape so lighter colours just don't look good right now.
Never So Ever-Green is a muted moss green with micro-glitter. It was a lot darker than I expected. And my pictures look much swampier than I expected. Just wearing it around, there's a little less yellow than the pics show.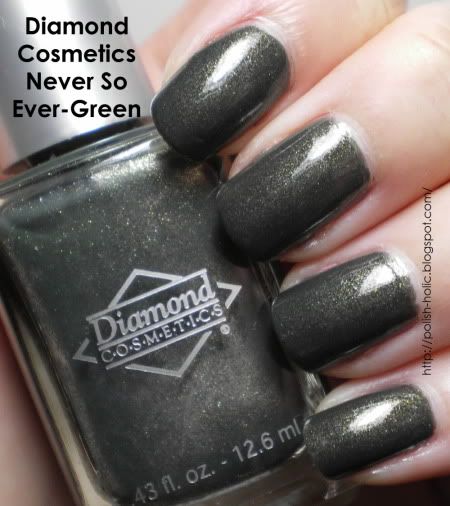 Two coats with topcoat.
Pic of the Moment
Last month, my friend Stacey, who's currently in Japan teaching, sent me a bunch of awesome stuff. (Edit: I wrote this entry weeks ago and it never occured to me to go and edit this when the earthquake happened. Stacey is totally fine. She's still there but she's ok. Just in case anyone was wondering.) I know what most of it is except for one. It's on the left above the green Kit Kat. They're paper flowers but I haven't the foggiest idea of what they're meant for.
So here's a run down of what I think these things are. Chopsticks, at the top, of course, then partially under that is origami paper, the Hello Kitty package is face blotting cloths (I think), beside that is apple scented lead, lip chap, then holographic glitter top coat nail polish. Now for the Kit Kats. I believe there's a fruit flavoured one and a wasabi flavoured one. Yup, that took a bit to figure out, but I'm 99% sure it's wasabi. It's the strangest thing. Lol.