jbrobeck
's pick. Well, technically, she picked the base, and then I ended up smudging the heck out of the mani when I was doing cleanup before the glitter so there's no pic of 556 alone. Sorry Madame jbrobeck.
This is the awesomest mani
evar
. Hahaha. 556 is an indigo creme. I found it a bit boring by itself so I slapped a coat of the glitter top coat that my friend Stacey
sent me from Japan
. Which has no name, but I'm going to assume the number is 17 because that's what's on the back. The glitter is composed of small round green glitter, medium round orange glitter, and large hex iridescent glitter. I couldn't properly capture it, but in real life, the glitter just pops against the dark indigo polish that is 556. I also apologize for the sad and sorry state of my hands. This was taken right after I had been working in a gross and dry warehouse.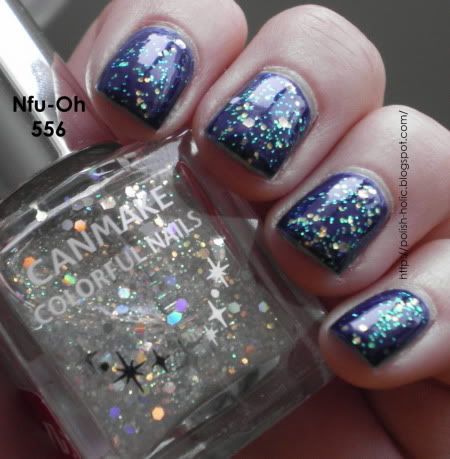 Three coats of 556, one coat glitter, and one coat topcoat. 556 required three coats for full opacity. I also had issues with application. I have no idea why, but it just wouldn't go where I wanted it to. I ended up doing a lot of clean up around the cuticle, something I usually don't bother with because most mistakes are minor. But not this time. Maybe I was just having a "speshul" sort of day. The glitter applied well. Good even coverage.
Pic of the Moment:
This is a closeup of a bow I made for a present I wrapped for a friend years ago. I was really happy with the way it turned out and dubbed it the golden gift.