AR Blac
's pick. Who also happened to have bought this for me. Thankya, dear.
Moon Shadow is a medium purple/golden brown duochrome with darkened edges. Nubar knows how to do duochromes.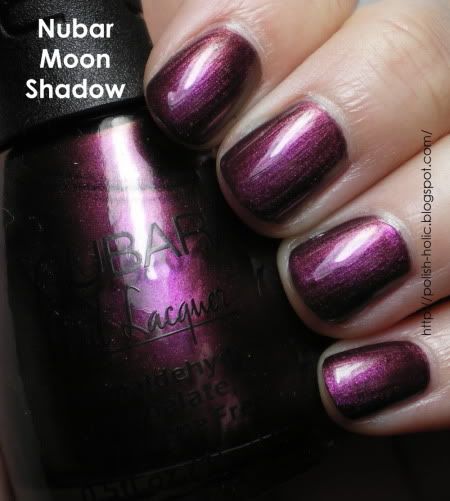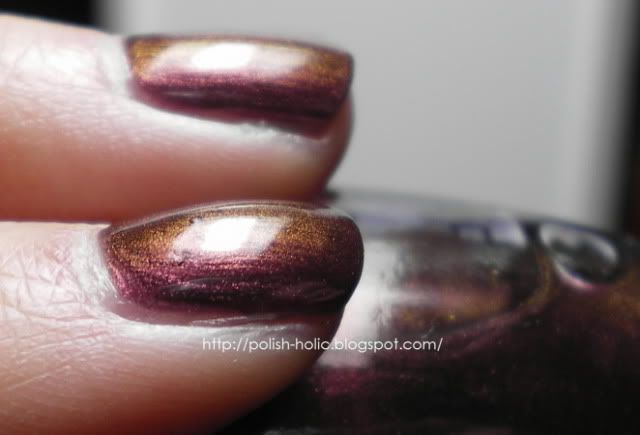 Three coats with topcoat. Application was very smooth. And at two coats I had full coverage, but for full depth of colour, three coats was best.
Random Story of the Moment:
So up in Canada we have this huge donut and coffee chain called Tim Hortons. It's a bit culty up here because 1) it was started by a hockey player, 2) it's Canadian so we hold it dear to us. Tim Hortons was what I survived on during university. If I can remember correctly, there were three of them at school. I consumed copious amounts of their coffee (usually I drank a double double, which is a shortened form of double sugar, double cream or something called an Iced Capp which was really just syrup and cream) and baked goods (lots of bagels and cream cheese and chicken salad sandwiches). The amount I consumed was disgusting and I gained so much weight. I also think I may have overdosed on it because I rarely have it now.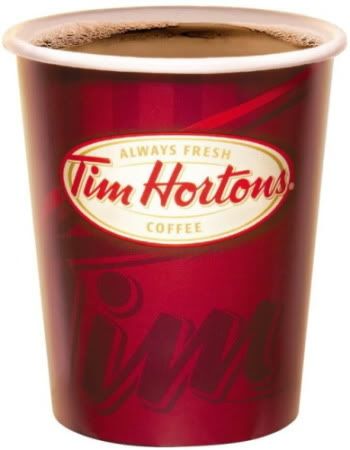 But onto my story. Some time during my university career there was sudden talk of a coffee called a Gretzky.
Nine
cream.
Nine
sugar. For those not familiar with hockey, 99 was the number Wayne Gretzky wore. So of course, I
had
to try this. Now that I think back on it, I'm pretty sure my decision making ability was completely impaired by lack of sleep.
Oh was the Gretzky ever awful. I remember when I ordered it, they had no idea what it was, so I had to tell them. And then when they finished making it, the girl asked me if I wanted her to put it in the microwave to warm it. I was like why would you need it nuked, isn't the coffee warm? Turns out the majority of it was cold cream and sugar. Oh my goodness, it was like a cup of cream and sugar with coffee as a very minor flavouring. The first sip actually wasn't too bad because it was like very sweet cream, but each sip after got worse and worse. Especially since a lot of the sugar didn't dissolve so ended up on the bottom of the cup. It's one of those things that I look back on and I just wonder
why
.