One last time, ladies and gents! Mostly ladies, a few gents, I think. Go enter my
Give Clean Water Giveaway
! It ends tomorrow! That's right, tomorrow, I begin fasting for 30 hours. I'm kinda scared. I've been training. I find I can go 5 hours without eating before I get a lil' light headed... That's not even a quarter of the entire time. Eeef.
I love this polish! It's so awesome! Can you tell? I am excited. Hahaha. Wooden Shoe is a gorgeous, creamy milk chocolate brown creme with gold shimmer. That gold shimmer is so nice. I love it. I highly recommend you click the picture to see the hi res version.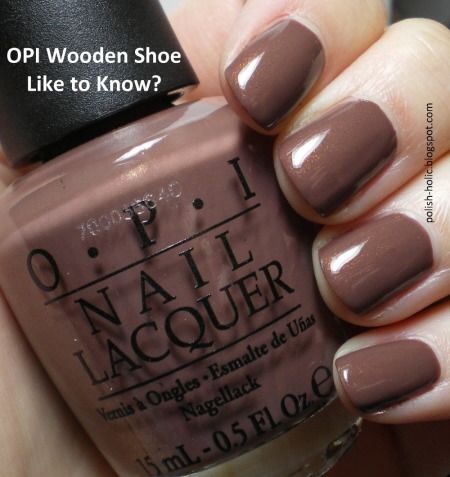 Two coats with topcoat. Applies smooth and flawless. I have bubbles, but that's from my super thick bottle of Poshe. Sorry about that. Time for some thinner.
Morbid Thought of the Moment:
So I was thinking last night, what would you want to happen to your polish when you die? I know, totally morbid. But I've been feeling the morbid lately. I know many of us must have a lot of polish at this point. And probably lots of friends and family who aren't interested in our little obsession. I personally have more than 600 bottles. And it takes up quite a bit of room. So if you suddenly were no longer of this world, what would you want to happen to your nail polish?
I think the only person who would really have any appreciation for my collection is StBFF. I'd will it to her and she can do as she pleases with it. Ideally, I would like for what polishes she isn't interested in keeping to be donated to a museum. But I can't really see a museum taking my collection. Most fashion museums deal with textiles primarily, or shoes, costumes, hats, jewelery, etc. Not make-up. Which is too bad, because nowadays the packaging for make-up itself can be works of art. Maybe someday I'll start one. Who knows.