Oh I love glitter. So funnsy. Why can't removal be the same? Lol. Anywho, Some Like it Haute is a clear polish packed with gunmetal grey glitter and larger round iridescent glitter. So blingy and fun. The photos just don't do this polish justice. The camera picks up way too much detail. Wherein real life, your eyes will blend all the glitter together producing a glorious sparkley grey mani. Also, my nails are too little to showcase the wide range of colours the glitter turns. Check the bottle for that.
The good thing about wearing anything bling-tastic during winter time is my hands are safely tucked away in gloves where they can't distract me while driving. Teehee.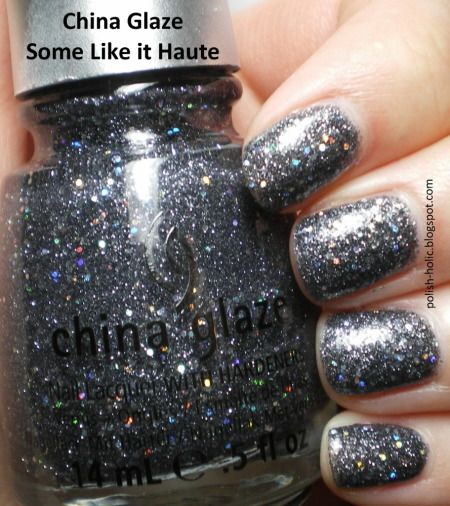 Three coats with topcoat. I also added an extra coat of clear under my topcoat as a spackle coat. Didn't really have any issues other than it thickening during the mani. I actually went and added a couple drops of thinner to it while I was applying my second coat. So just keep that in mind during application. Don't leave the bottle uncapped too long.
PS:
This mani only really lasted three days for me. After that, it just started to pop off. Literally. The nail polish was so thick that instead of chipping, the entire whole sheet of nail polish on my nails just came off. So if you want to wear this for a special occasion, I would suggest not doing it too far in advance because you won't know when you'll just lose a nail of nail polish.
Mini History Lesson of the Moment:
I want to share this little vid with you guys. It's the history of the Keep Calm and Carry on Posters. It's really interesting. I had absolutely no idea it originated in the Second World War. Please watch and enjoy.