I'm probably starting to sound like a broken record. Oh, what the heck, let's be honest, I
totally
sound like a broken record. But I care not, because I want you to enter my
Give Clean Water Giveaway
! Go! Shoo! There really aren't that many entries, so your chances of winning the pot are quite high. Please, please, pretty please? By the way, it's my Birthday today. Totally shameless I know, but go enter the giveaway, it'd make my Birthday just that much awesomer. *Wink*
Anyhow, onto the polish. I've been calling this polish the blonde, as does StBFF. I don't feel like Big Money is a very good name for this polish. Doesn't fit, ya know? But
the Blonde
, I like.
The Blonde
is another polish from the Gem Crush line. I have to admit, these polishes have been amazing. They should come out with more. In darker colours. *Hint hint*, Sally. Big Money is a clear polish packed full of pale champagne glitter and larger lavender hex glitter. I love it. It's like subtle bling. The overall effect you get with the combination is a cool, pale glittery gold on your nails.
Love. It.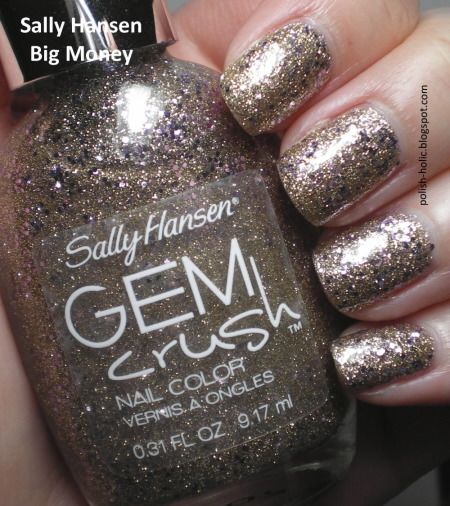 Three coats with topcoat and spackle. Great application, but suffers from the same affliction as its siblings, an awkwardly shaped, unwieldy brush.
Adorableness of the Moment:
YOMG PUPPIES!! Yeah, that's all I got. Hahaha.