Thank you to everyone who supported me for 30 Hour Fame. I appreciate your donations and your words of encouragement. You have no idea how much it meant to me. Now for the Clean Water Giveaway winner.
Congrats Carina! Hope you enjoy your nail polish!!
Now the important part, my nail polish. Lol. My 30 Hour Famine manicure was Deborah Lippmann Across the Universe. I chose it because it had a water type feel to it. And since I was raising money for clean water, it fit.
I never ever thought I'd own this polish. First off, it's quite pricey and I thought it was limited edition so I assumed it was out of my reach. But Spa Boutique, a Canadian online retailer, happened to have a 15% off sale and I grabbed it. I was so excited.
So
excited. And it arrived the night before 30 Hour Famine. Perfect timing.
Across the Universe is a dark blue jelly with small blue glitter and large blue and green hex glitter. I love it. Love it. Love it. Love it! But this is a horrible picture. It looks all streaky and sheer and yuckies in the unforgiving light of Ott lite. But in regular and bright indoor lighting, it just looks like a squishy dark blue polish with lots of different glitter. Just glorious and beautiful.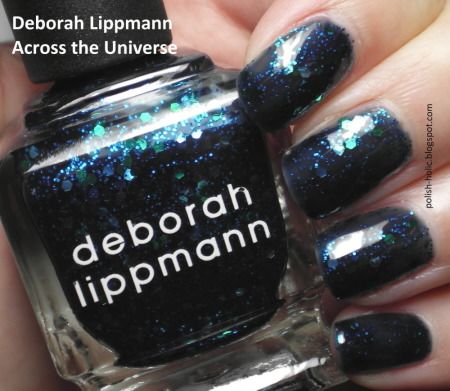 Three coats with top coat. It applies watery so I gave it time to dry between coats and used thick coats.
30 Hour Famine Report:
My fast has began Friday, March 30th, 2012 at 1:00 PM. I was eating right up until 1:00. And of course, that's the exact moment the new CEO has to walk in with the most glorious and delicious looking cupcakes known to man. Boooo. Hahaha.
I ate at least three pork chops, two hardboiled eggs, a bowl of rice, and three pieces of chicken breast at lunch. It can not be healthy to have had so much protein in such a short period of time. But it lasted me until about 10:00 PM.
And here's a little video report I made in the last hour of the fast. Warning: This video contains high levels of awkwardness. Watch at your own discretion. Hehehe.
At one point during the vid, I say I was up until 1:30 AM and was up at 8:30 AM and I realize how old I sound. Man, years ago, that would have been no problem.