Oh jelly sammiches, you look so yummy. I'm speaking of nail polish jelly sandwiches, of course. I've seen them around the net and they all look so squishy, so sparkly, so glorious. Made me want to try my own. Although mine didn't turn out as blingtacular as a lot of the ones I've seen, I really love it.
I used L.A. Girl Addict as my base with Essie As Gold As it Gets as the glitter in the sandwich. Addict is a berry red jelly with gold flakies of its own, but every time I've worn it, I wished the gold flakie was more prominent, so I put a coat of As Gold As it Gets in between. Definite more blingy than
Addict on its own
but not hugely obvious. Check out the pic anyway. Love it!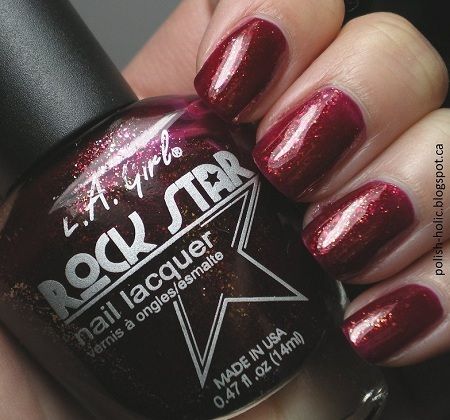 One coat As Gold As it Gets between two coats Addict with topcoat. No application issues, but definitely wish I had given more time between coats. Little bit spotty under the harsh lens of super macro mode.
Nail Polish Containment Unit of the Moment:
I have no idea how to start this segment. I've kinda sat here for the past 5 minutes trying to come up with a good segue way or witty opening, but I got nuthin'. So I'll just go right into it. My Melmer is
awesome
. That's right, just look at it. Can you not tell me that it is not awesome?! Hahaha. Mine is on the right. StBFF's is on the left.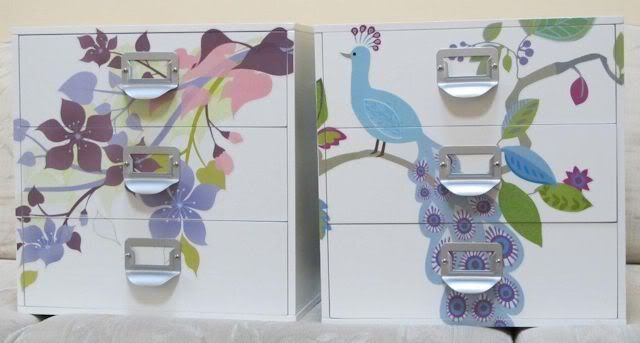 Look, the design wraps around the side. Mine also wraps around the other side, but it's just leaves, so not that interesting.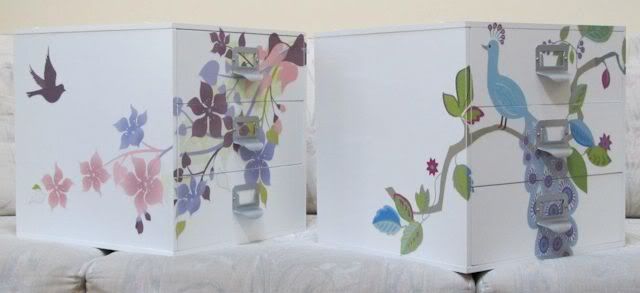 StBFF got the brilliant idea from somewhere on the internet to decorate a Melmer. After that, she was all over the idea. But the original poster had used modge podge, StBFF decided to use wall decals we had bought from Dollarama for $2. It was a great idea. So we did the placement and used an exacto knife to cut and trim all the pieces so they wouldn't tack to each other or the other parts of the Melmer and peel off.
Here's a picture of what the Melmer looks like bare and before I put the drawer handles on. Taken with camera phone, so not great.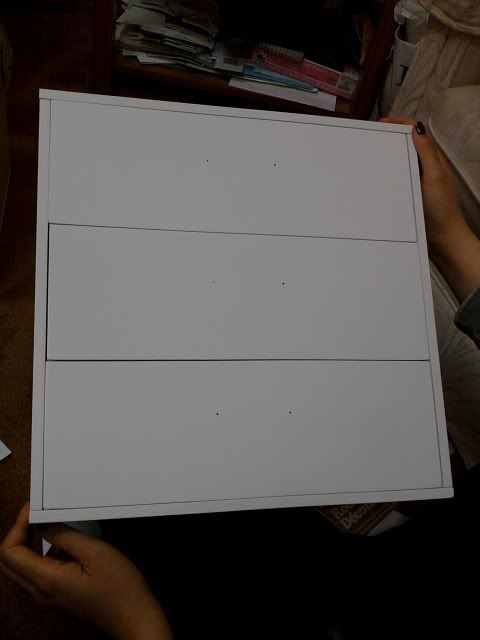 And my Melmer in its new home beside my Helmer. They homies.
One last picture of how I strapped my Melmer into my car so that I could take to StBFF's to decorate. I thought it looked funny.