Hiya, Helena Perry here. You guys can call me Perry. I'm a 2010 graduate from the University of Calgary with a history degree and a biology and museum studies minor. I've worked for three different museums in my very short professional life and am currently employed by Canada's Sports Hall of Fame here in Calgary. I love nail polish and this is my nail polish blog.
I would like this blog to be a resource for other nail polish fans out there. Ultimately, I would like this to become a photographic archive of all the polishes I own. Which is why I
actually
started this blog. I basically cultivated and refined my obsessively organized side while volunteering and working in museums. I
enjoy
organizing things. I think that's a little odd, but it's me. In every way, this blog is the perfect outlet for my organized nature, museum mind, and nail polish hobby. And I was already taking pictures of my manicures and emailing them to StBFF, so why not just use those to start a blog? In all of this, I hope someone out there will find something useful here.
My obsession for nail polish only started recently. But I have always loved nail polish. Although it was more of an on again, off again relationship with the flame never burning as hot as it does now. Some time around July/August '09 I read an article about OPI's Russian Navy Matte and that started me on this path of nail polish addiction. I
needed
that colour, so I headed out to my nearest salon to get it. Sadly, they didn't have it, but I was drawn to the other awesome colours they had and that was my first batch purchase. Because it was my first, OPI has a special place in my heart. The majority of my collection consists of OPI polishes, but I'm always expanding. My favourite colours are red, blue, and purple. And I'm
always
on the hunt for the perfect green. I tend to love my dark colours, but have a healthy appreciation for neutrals. Gold sort of also sucks me in. You stick some gold shimmer in a polish and I'm all over it like white on rice. Same goes for gold foil, gold metallic, gold glitter, doesn't matter, gimme gimme. *Grabby hands*
And here's the picture that started me on the hunt for OPI Russian Navy Matte. I
did
eventually find it. The lighting in this picture makes it look much lighter than the actual polish. I liked the picture better. Sadly. But that's alright because I have so many other wonderful polishes that one little dud isn't going to bring me down.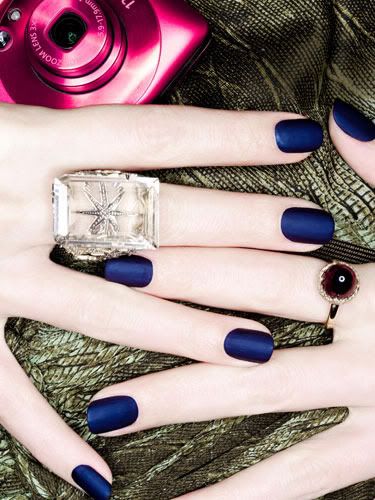 Image Source:
Marrie Claire